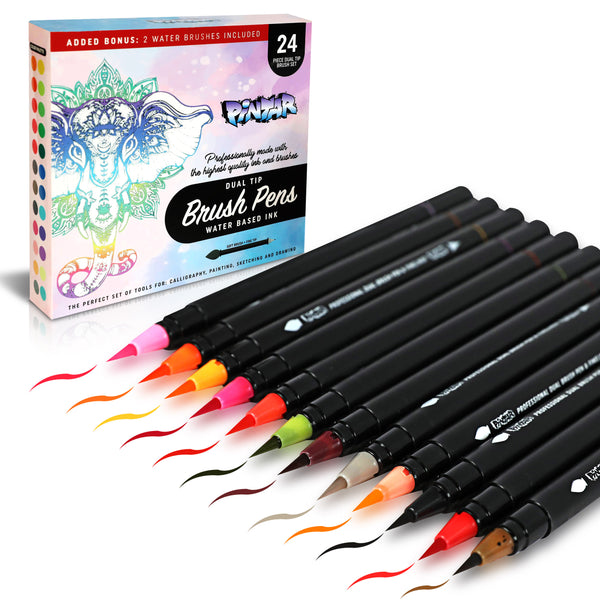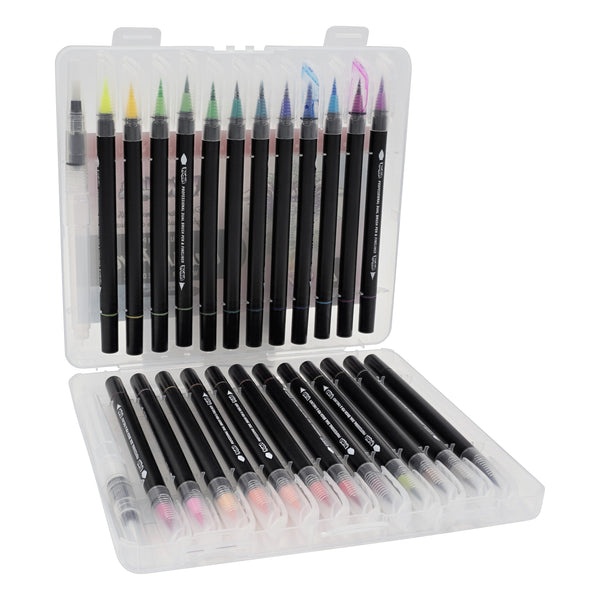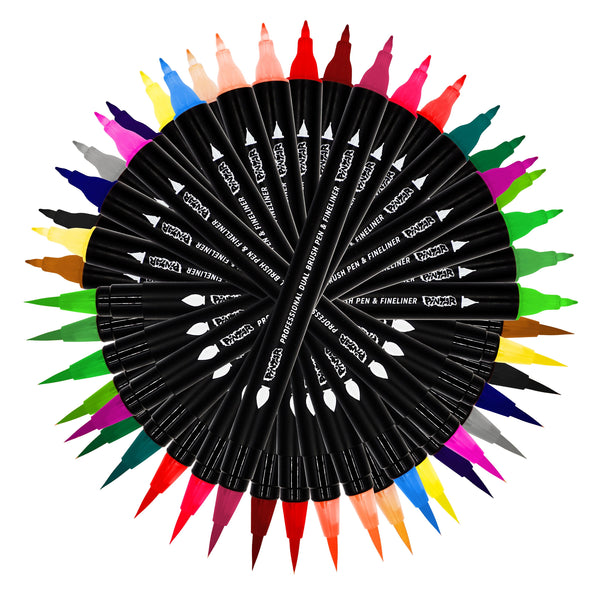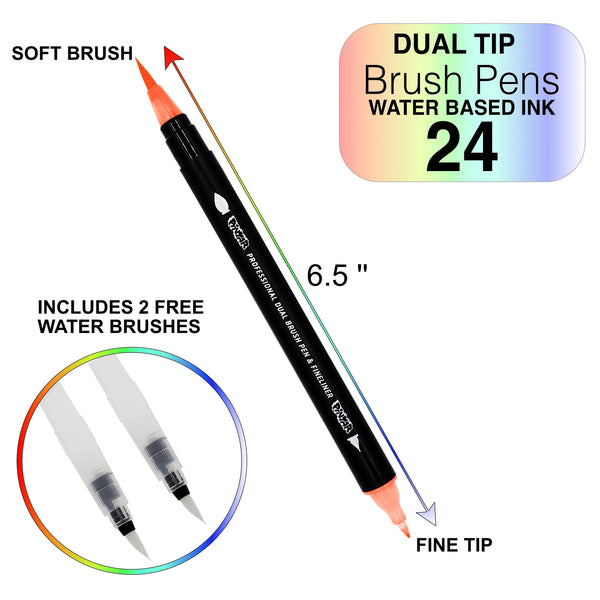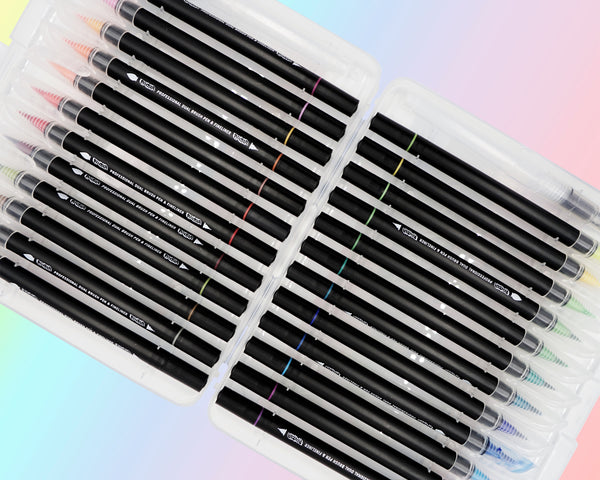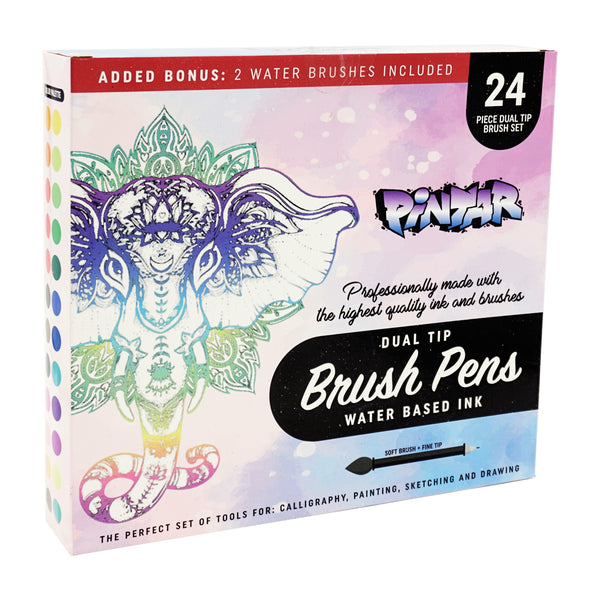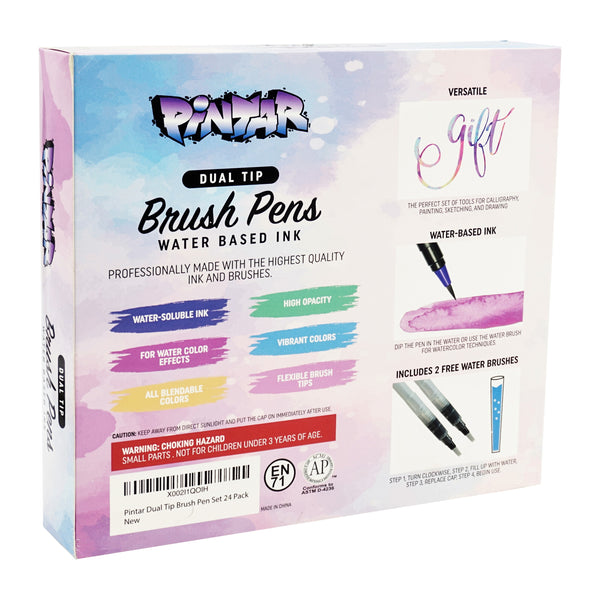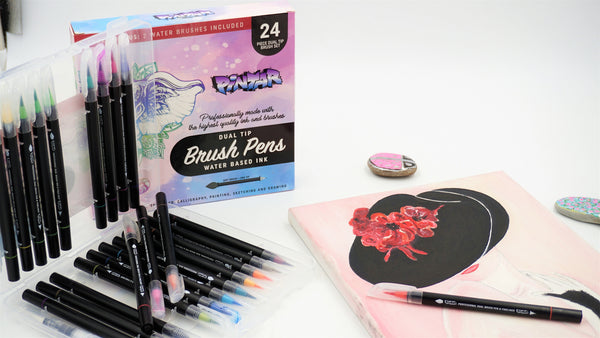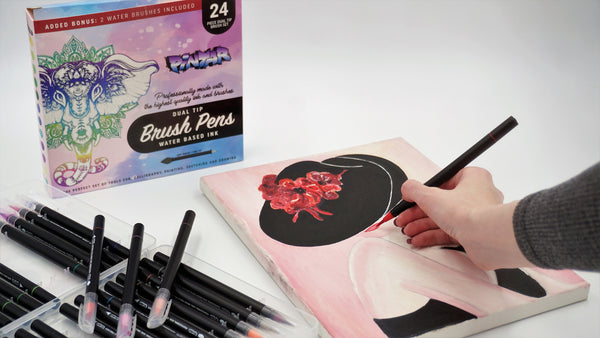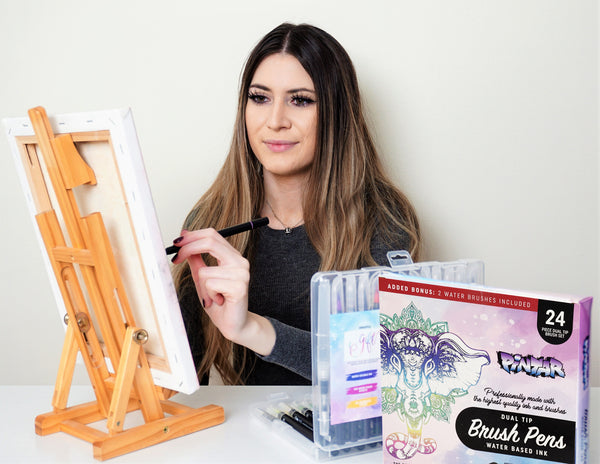 Zoom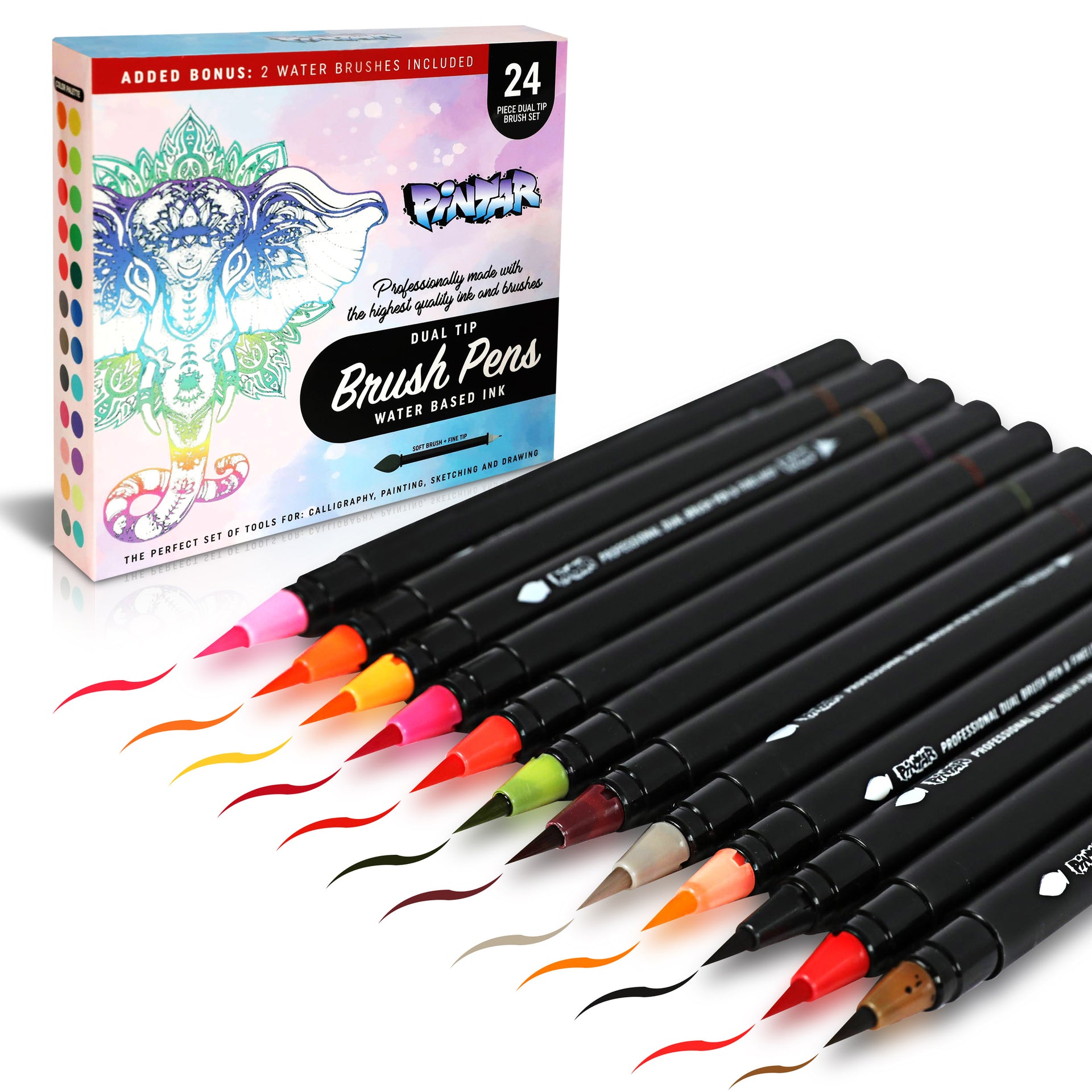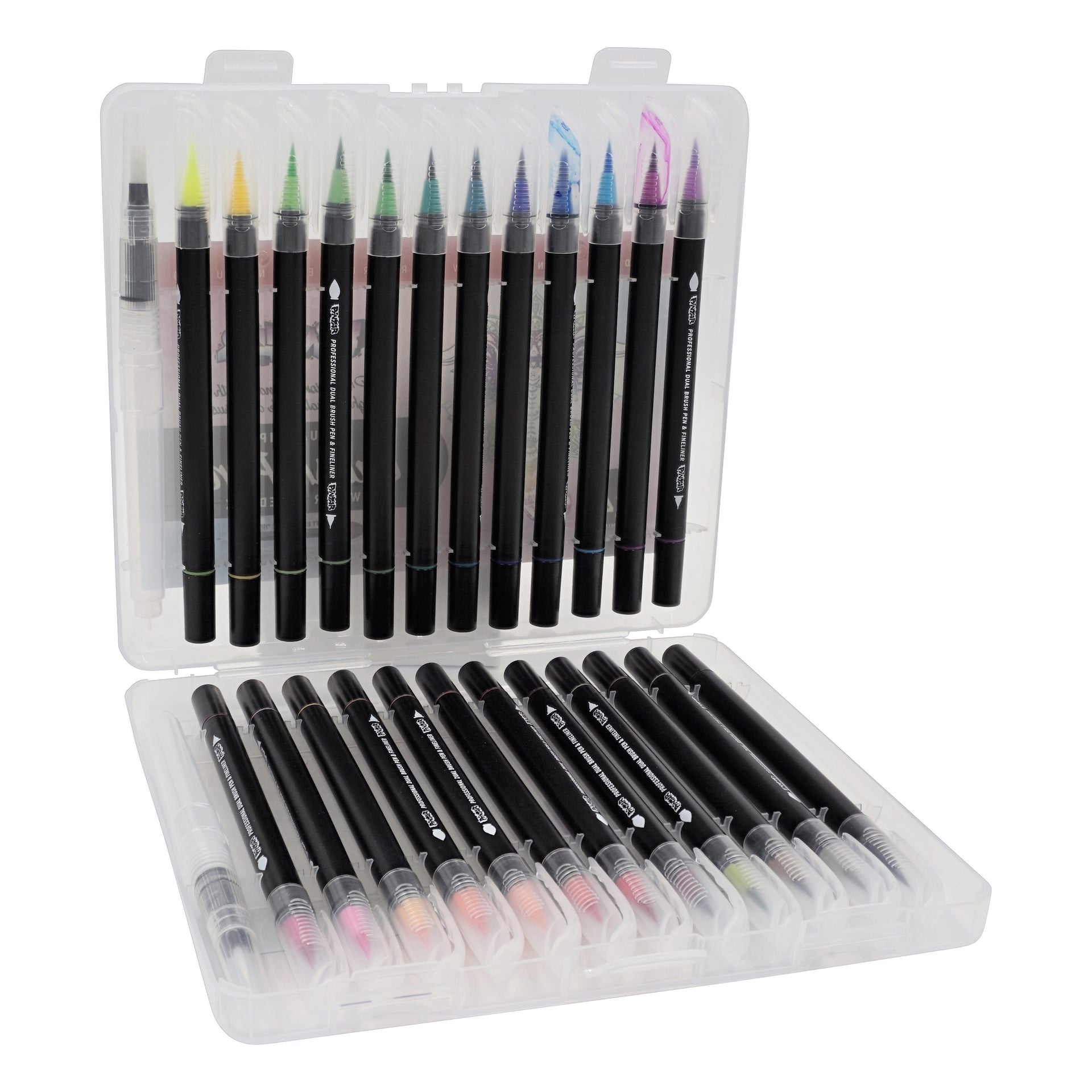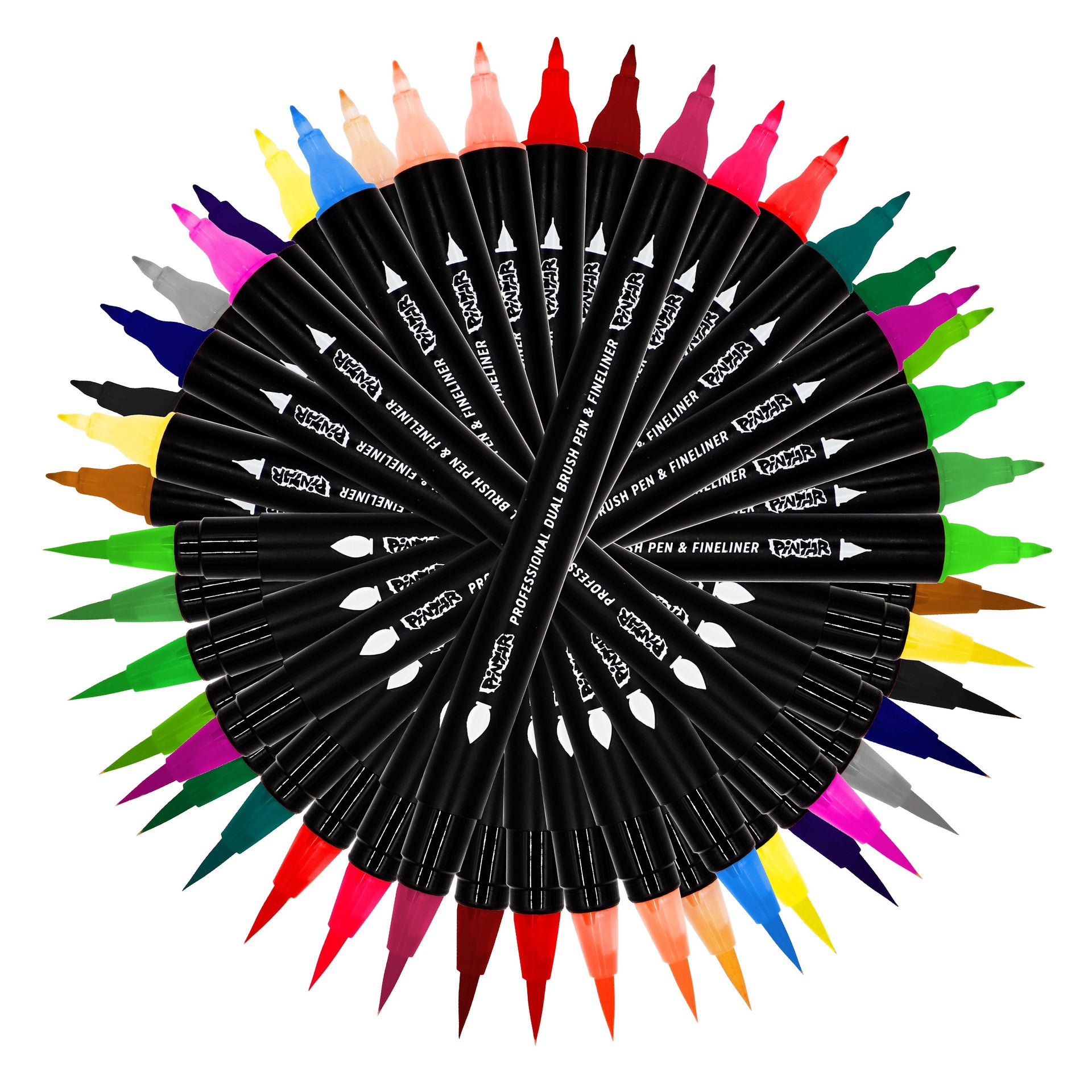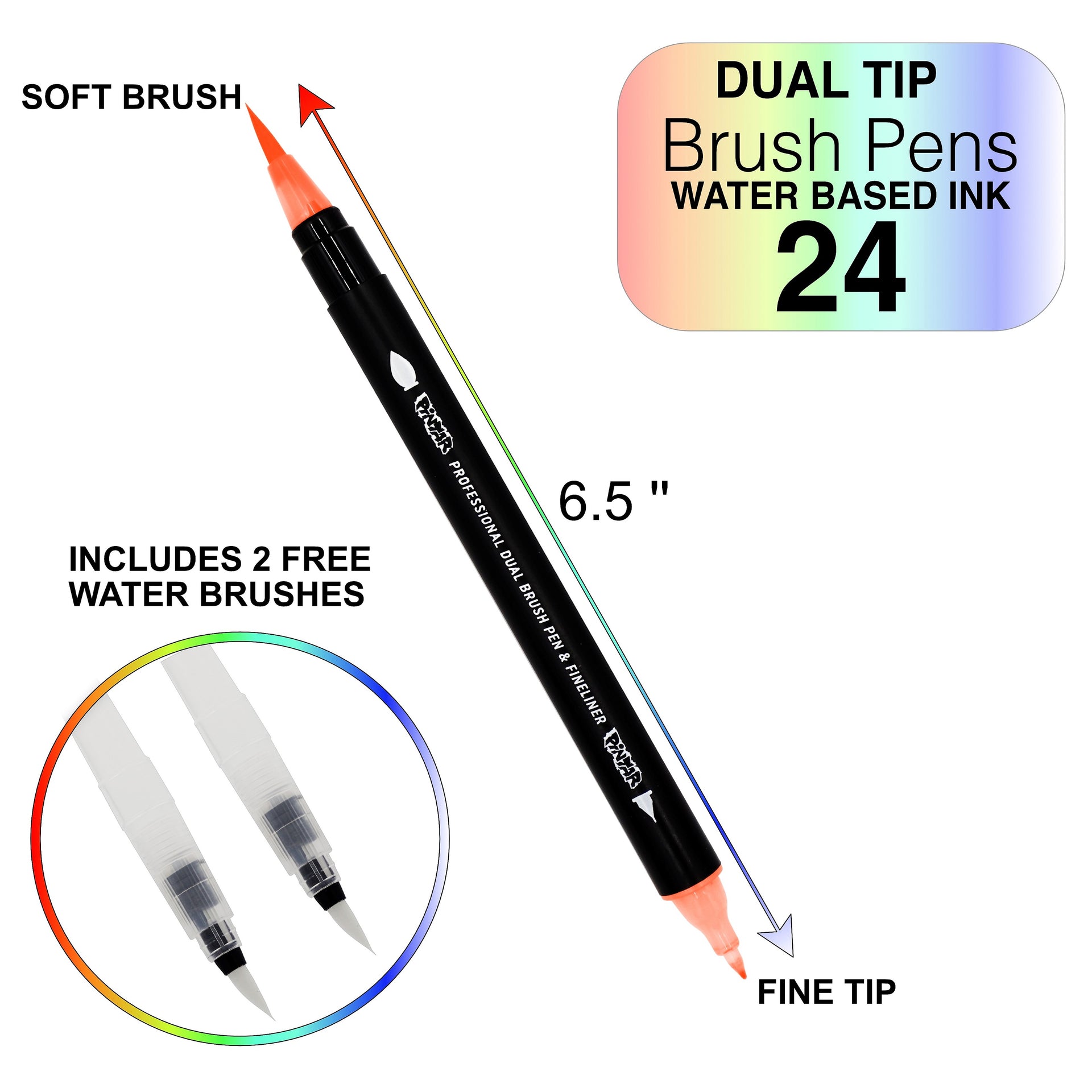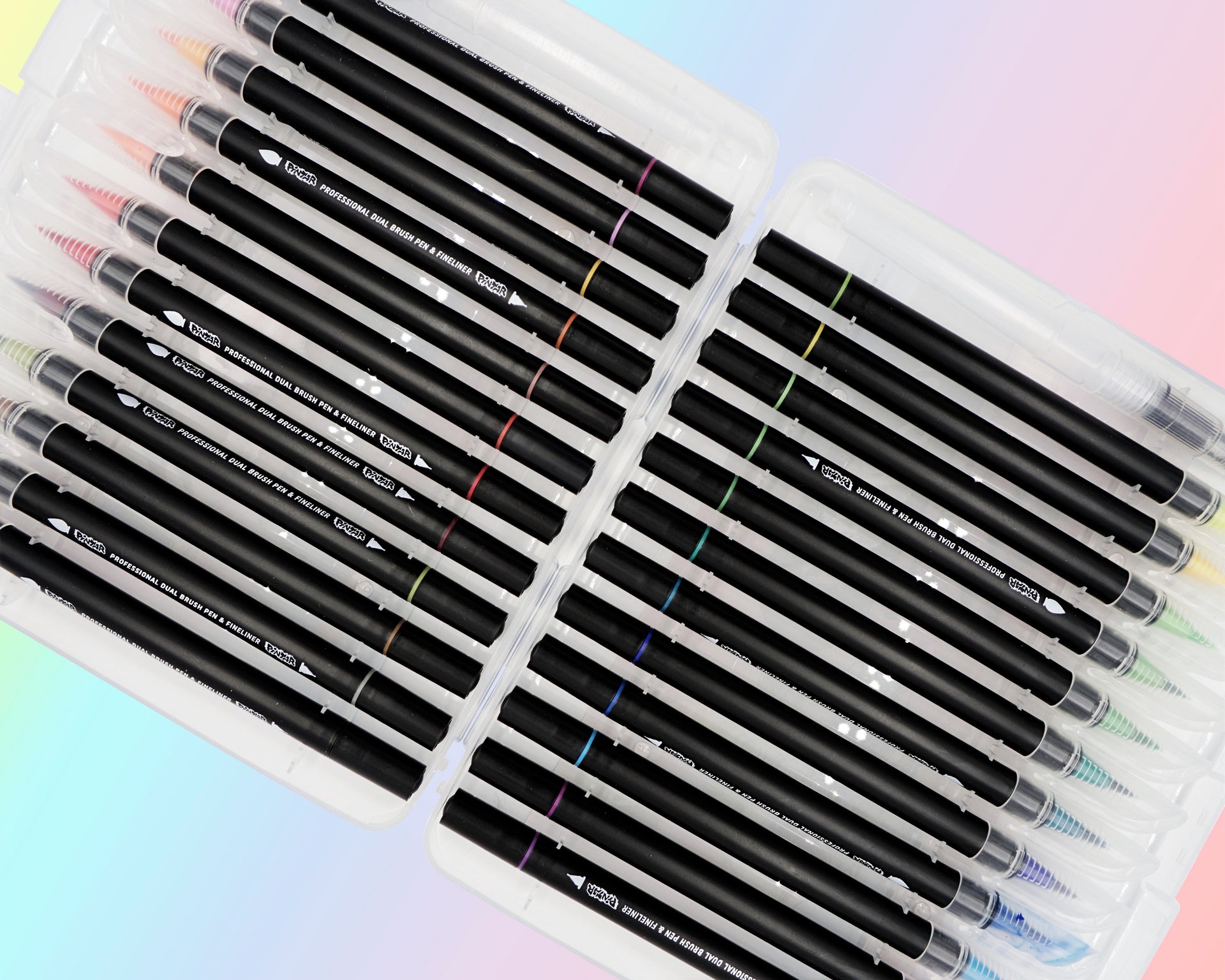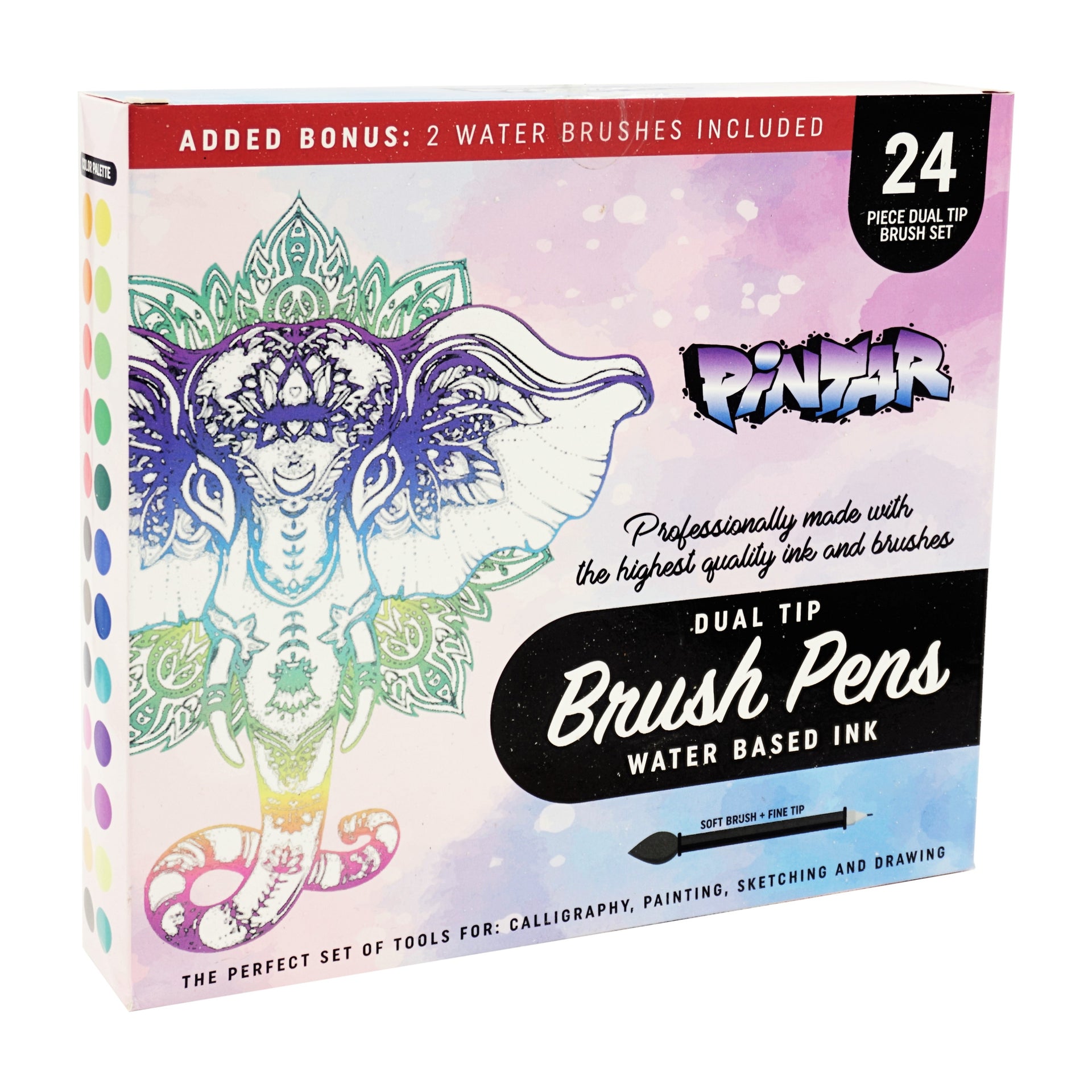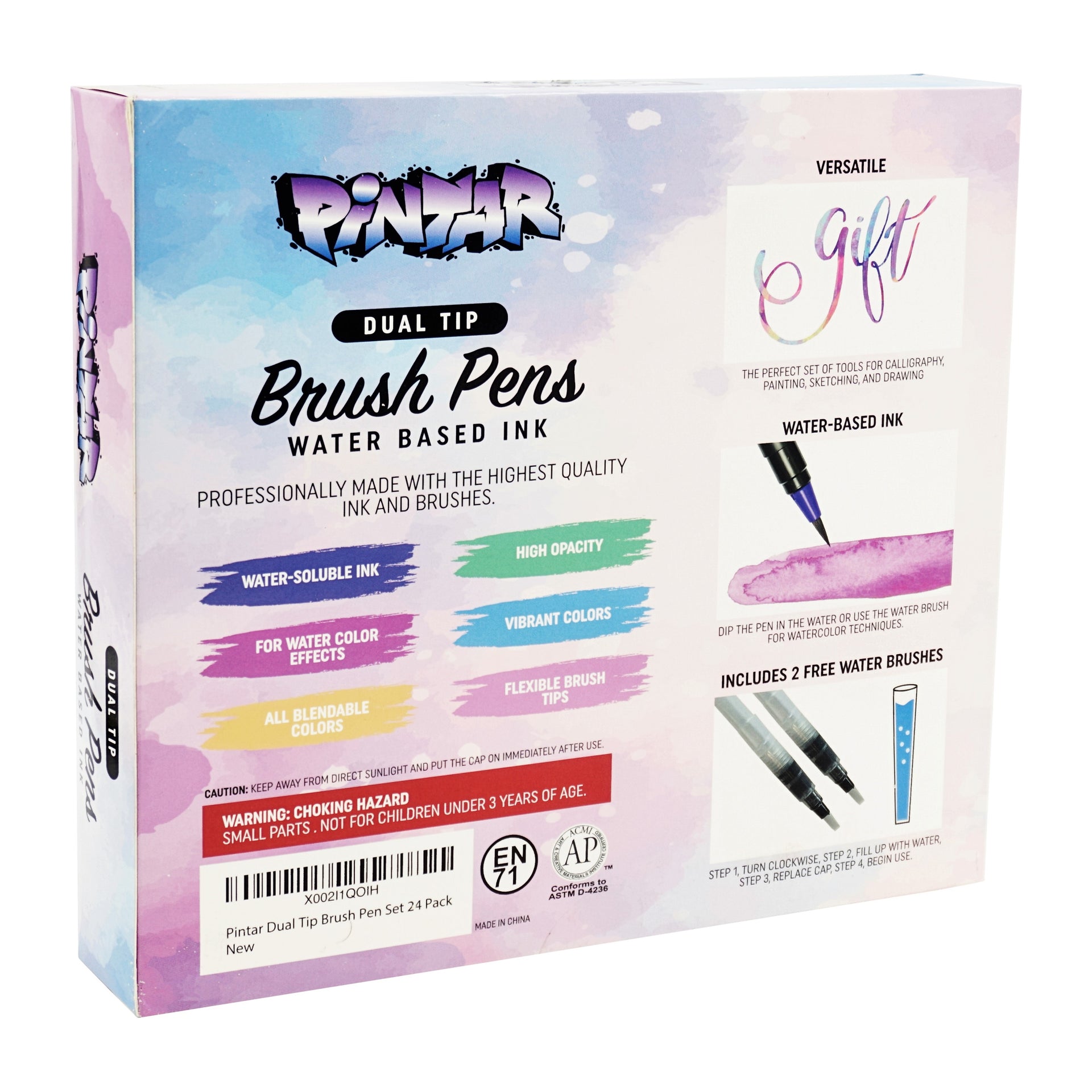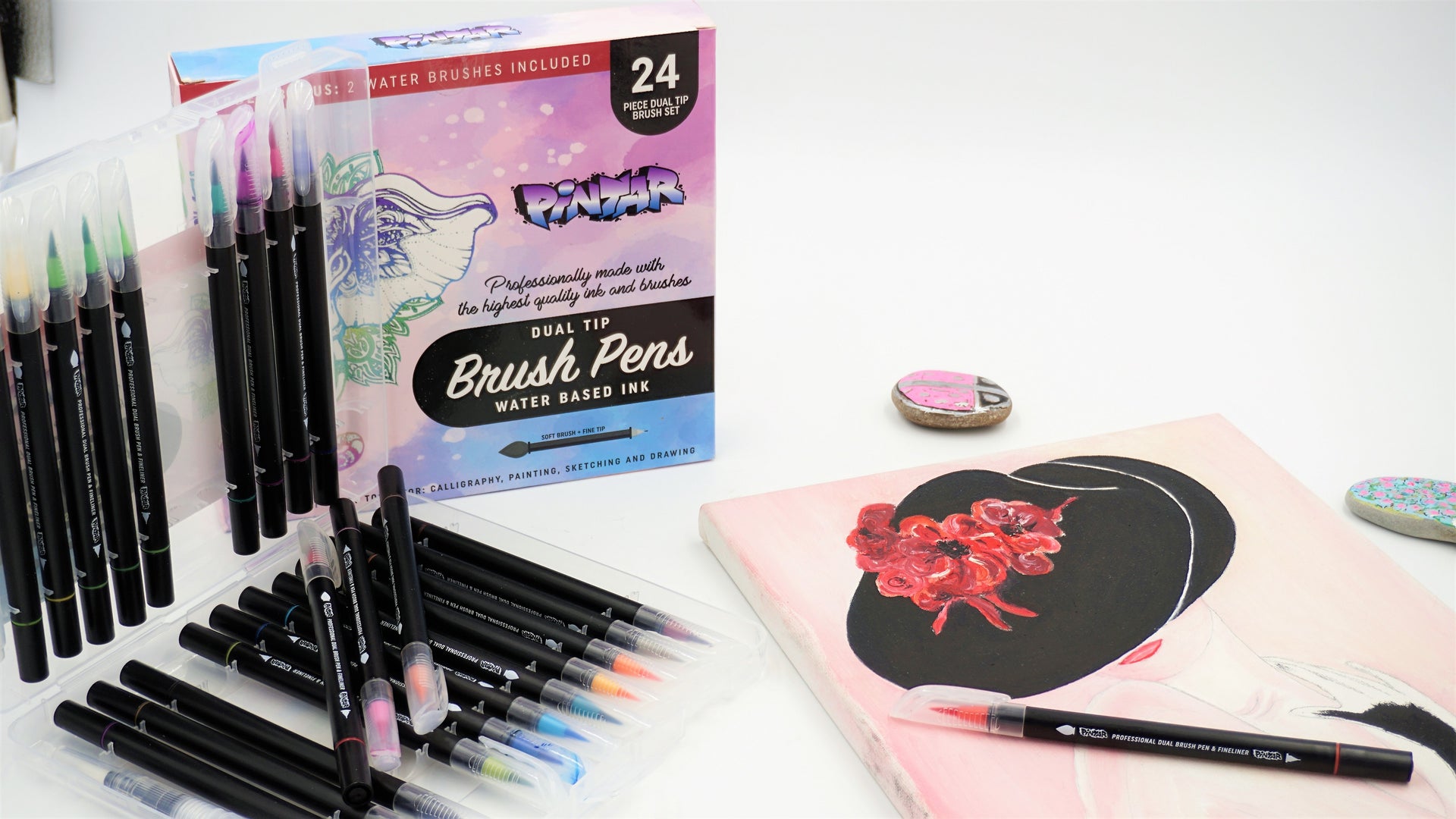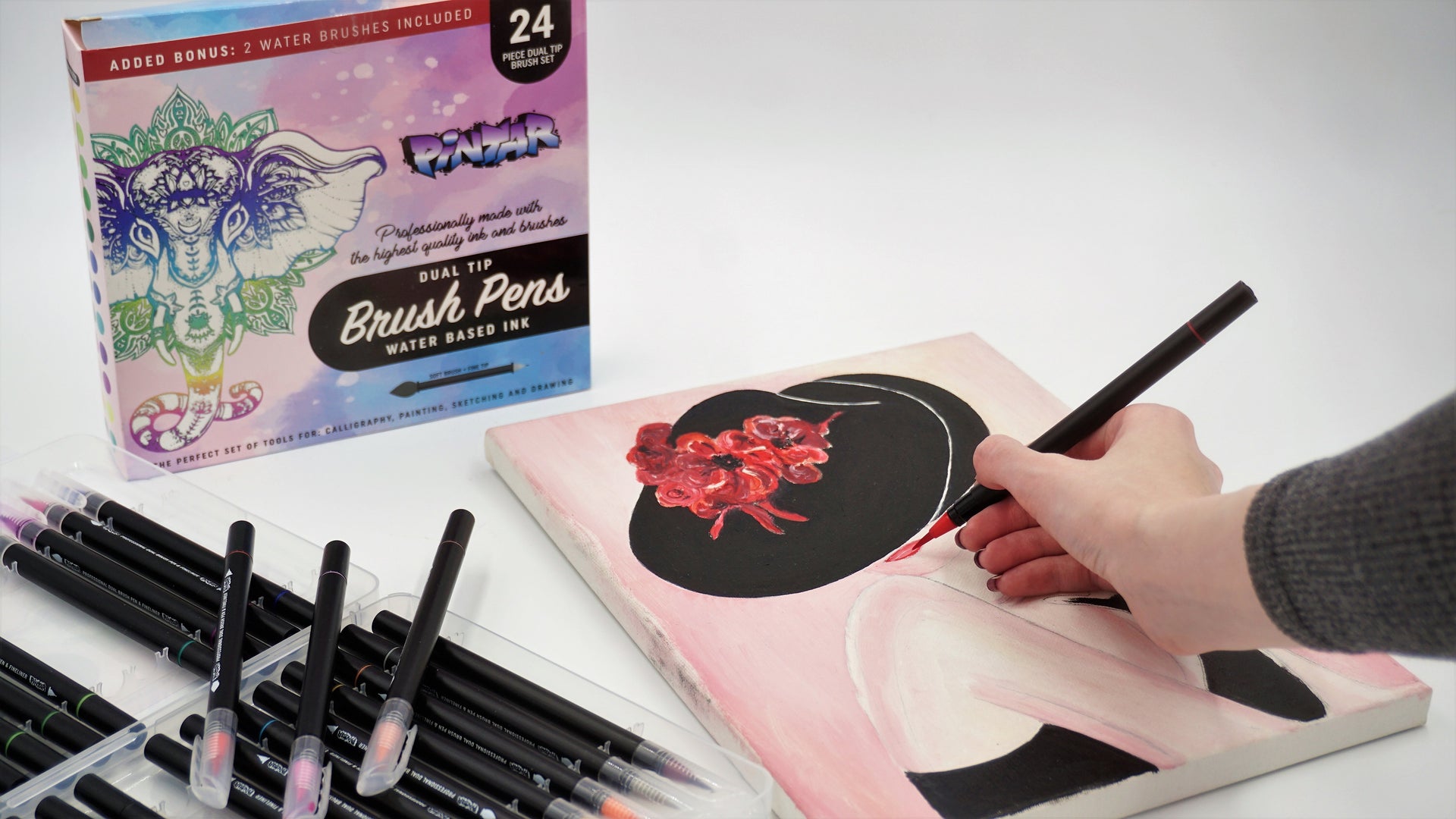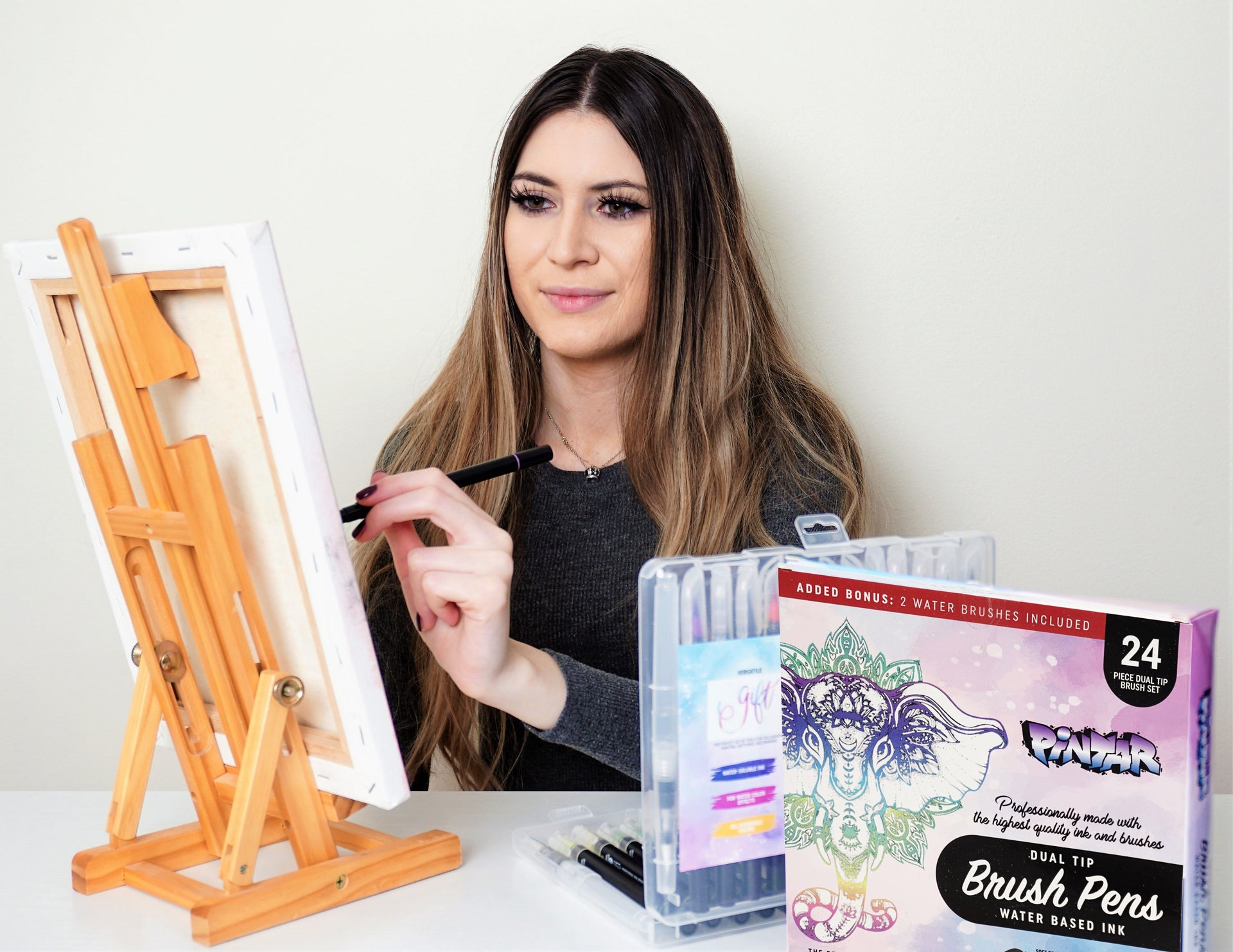 EXCEL YOUR CREATIVITY: Looking to add colors in life? Then our fine liner dual tip brush pens are what you're missing. These pens are specially designed to assist you in calligraphy, painting, sketching, and drawing. Identify your choice of color through a transparent cap design and the color palette.

THE ARTISTIC TOUCH YOU NEED: Explore your inner artist with these professional brush pens that will help you to create aesthetic things. A pen filled with an appropriate amount of ink and color to keep your art flow smooth. Every pen assures a smooth flow of writing and we try to make sure that no pen is lower than the other in performance.

GO DRAW SOMETHING, REPEAT...: An artist's work has many bad strokes before you see the final stroke of excellence. These flexible brush pens won't create streaks or overlapping but you need to focus to get these strokes right. The more you paint, the more chances you have to create an exceptional piece of art.

ZIG-ZAG ZOO: Extraordinarily flexible tips to help you in calligraphy art without slipping across the paper. These calligraphy pens are the best choice for you when drawing or sketching and cannot afford to bleed through. Add the most promising tool for your art supplies for adults and kids.

SATISFACTION GUARANTEED: No harmful substances used and is 100% non-toxic& acid-free. Our product is made in China and conforms to ASTM D-4236. 2 bonus water brushes included. We believe in our customers throughout the purchase and after that. In case of any issues you may contact us and we will find a way to resolve the problem.
Product Description :
Variants That Bring Joy
Our water-soluble brush pens produce a rich color effect after coloring. Mix your colors to produce a watercolor-like effect, making them ideal for creating illusions and fine art.
How Pintar can improve your art?
Available in a variety of colors, to be specific 22 different colors along with 2 water brushes.
Dual-tipped or double-headed pens, allowing you to write with thin and thick lines.
This special pen set contains all blendable colors that are ideal for coloring, calligraphy, sketching, and painting.
This watercolor pen is a beautiful gift for your loved ones, children & adult, who love to paint.
The synthetic tips are made of nylon and are easier to handle.
High opacity to create firm designs.
Water-soluble ink
Creating a Sense of Exploration, Inspiration, and Utility - Irrespective of your Level of Expertise
This is the most definite feel of its experience! No matter how much exposure you have, these brush pens will assist you in the most delicate arts. Calligraphy needs flow with firmness. Streaks or overlapping brush pens can ruin your calligraphy. Our brush pens are made with flexible fine tips to achieve smooth drawing with beautiful curves and don't spill paint to avoid tacky finishing. It is a common perception that art depends on mood. Professional artists cannot afford to wait for the right mood. However, as the mood is an influencer to achieve quality so we designed our brushes to suit all the moods. Our fine tip brush pens are created for all levels of artists and for all types of art. To get the most out of your skillset, you need the right tool.
IT IS TIME TO SEEK NEW HORIZONS, GET YOUR SET NOW!
Shipping
All orders are shipped within 1-3 business days. Delivery takes 5-7 business days.
Returns Policy
If for any reason you are unsatisfied with markers we sent you, we will refund your entire purchase price. We think that you should be completely happy with our products. If Pintar markers were not everything you had hoped for, please email us at admin@pintarartsupply.com and we will straighten things out.
Note that our policy lasts 30 days. If 30 days have gone by since your purchase, unfortunately, we cannot offer you a refund or exchange.
To complete your return, we require a receipt or proof of purchase.
Q. What's your return policy?
No returns or refunds will be issued if the markers are opened and tested.
Q. Do you ship overseas and to P.O. boxes?
We currently ship to only the United States. If you are interested in ordering products overseas, please contact us at admin@pintarartsupply.com.
Q. 

Do you have customer service?

Of course! Our friendly and knowledgeable customer service representatives are available to answer your questions. Reach us on Messenger or the "Contact Us" form.
Q. Do the Acrylic markers work well on Canvas/ Fabric? Do they bleed?
They work great on canvas and don't bleed unless you push the nib and hold. They also can work on leather and fabric with a smooth texture. It is difficult to draw with markers on cotton though. We recommend hand wash cold for fabric but can't guarantee they won't fade after a while.
Q. 
Are the markers food safe? Could I serve food on a plate decorated with these markers?
To claim markers food safe they should have FDA approval. Our markers have not been sent to the FDA for this request. We do not recommend using markers in contact with food.
Q. 
Are these Acrylic Paint Pens dishwasher safe?
We do not recommend to wash your projects because of the high water temperature. It might not be dishwasher safe. But it is water resistant, when glass, porcelain and ceramic projects are properly cured. Just use warm water to wash mugs or cups, it will be safe for your designs.
Q. 

Does the paint stay on glass/mirror permanently without oven baking the item afterwards?

Those won't stay on glass or mirror permanently without oven baking. However, you can apply sealant for permanent results if you can't bake the project.
Q. 
How long should I let the paint dry on rocks before using a sealant?
Please, wait several hours (we recommend 24 hrs) until the paint is completely dry.
Q. 
What are the sizes of the tips?
The range of the tips vary: extra-fine tip is 0.7mm-1mm, fine tip is 1mm-2mm, medium tip is 2mm-3 mm.
Q. 

Do these acrylic markers work on metal surfaces?

Yes, they work on metal. The solution is to let the pen ink dry completely then spray a clear acrylic sealer, but make sure each coat dries completely first.
Q. 
Are the markers refillable?
No, unfortunately, the markers are not refillable.
Q. 
Do they bleed through paper?
No, the paint pens do not bleed through the paper, however it depends how thin is the paper and if the paint markers are acrylics or oil based.
Q. 
Is the paint permanent? Will it stain clothes?
It is semi-permanent. As with any paints, they do not wash out of clothes easily but as long as you seal the rock, it should last for years.
Q. 
Do these markers work on wood? I want to decorate wood ornaments with them.
Yes, they work on wood and glass and just about anything.
Q. 
Can they be used more than once?
Yes, you just need to make sure you snap the cap back on tight.
Q. What is the difference between water-based and oil-based markers?
The simplest answer will be the drying time difference. Water-based markers dry fast where oil is not. Also, oil-based markers dry permanent, where water-based dry only water-resistant, thus to make them permanent you have to seal or bake the project depends on material.
Q. 
Is there any difference between acrylic paint markers and water-based paint markers?
There is no difference. Acrylic is a pigment that used as a component of ink that dissolves in water.
Q. 
What is the difference between paint markers and paint pens?
In this case you just need to think of a size of the pen or a marker.